All Night Gong Bath Ceremony – FILLED
March 25 @ 20:30

-

March 26 @ 08:00

CHF250,00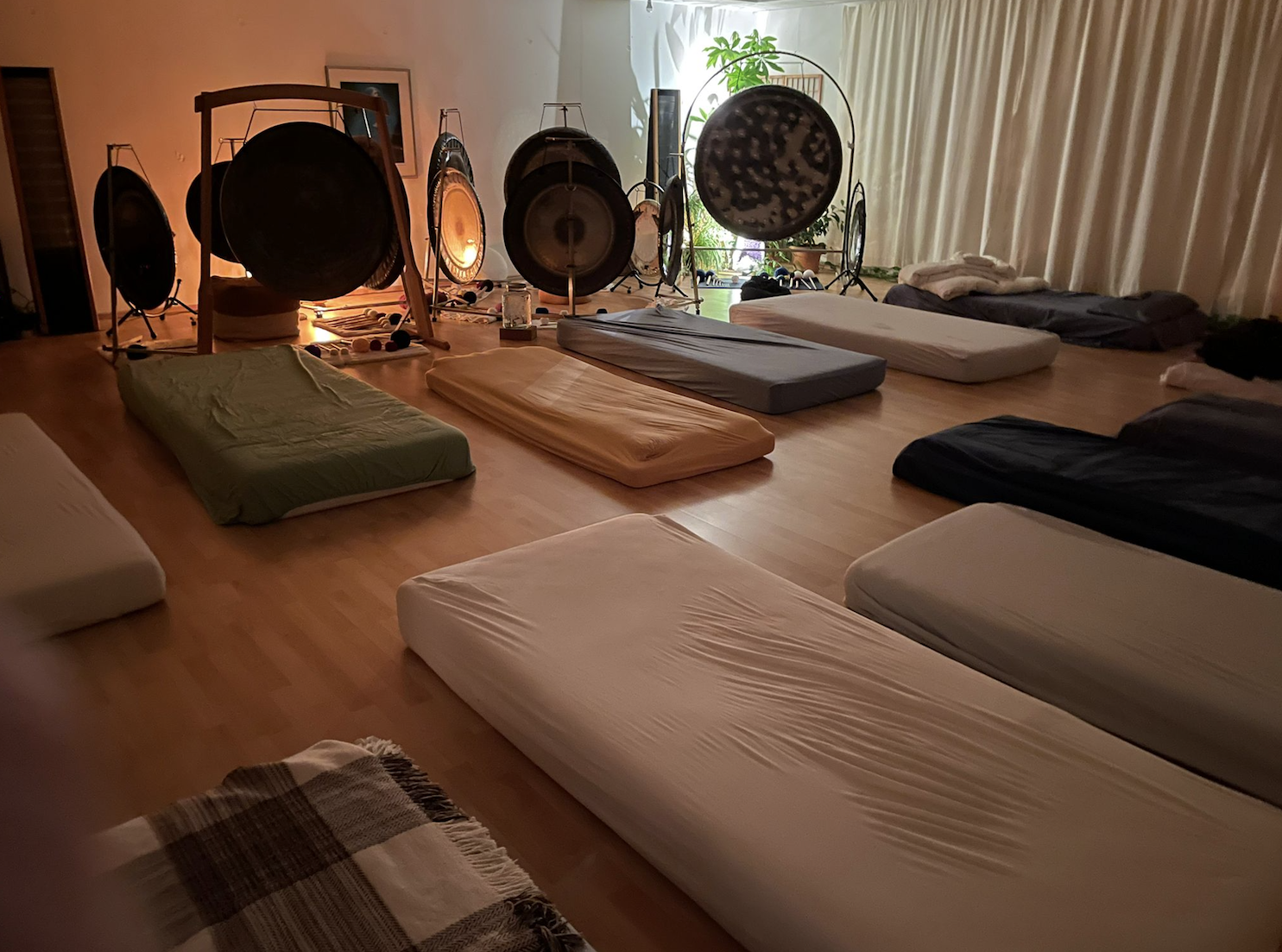 This will be a uniquely spiritual journey; a night of transformation, deep sleep, vivid dreaming, a deep reset.
The gongs will play continuously from the evening to dawn. From a comfortable bed, you will be able to sleep, meditate, or just listen and appreciate. Whatever is right for you.
There will be 4 gong players, each taking a turn.  Alan will be joined by gong playing apprentices.  These excellent gong players each have their own style. They all play with sensitivity and creativity and will play gently to ensure a peaceful experience for all.
Participants who've attended similar sessions experience:
The release of physical and emotional blockages and mental noise.
A sense of being more receptive to a clearer, more vivid experience.
They were able to sink into deep and beautiful stillness.
They noticed the space around thoughts; coming into connection with the witness within.
While sleeping they had vivid dreams, sometimes in full color.
Even though everyone's experience is unique, there is always a deep sense of gratitude for this unique journey.
Event Schedule
20:30: Doors open
21:00: Welcome and set up the sleeping nests.
21:30: Opening ceremony, tea and Meditation (gratitude and intention setting)
22:00-06:00: All night Gong Bath Ceremony. 8 Gong Bath Sessions.
6:00 – 6:30: Silence and journaling.
6:30 Rise and shine
7:00 am Light Breakfast & Sharing
Why the discounted pricing

The pricing for this session is 1/2 what it usually would be, because the evening session is part of the training for 4 of the gong players. It is their graduation session. For this reason, we offer this special price. The price includes room rental for the evening, tea, and light vegan breakfast.
Limited Number of Participants
Because of the nature of this event,  the size of the room, and the number of gong players, we must limit the amount of participants to 10.